Regular price
Sale price
$ 15.25
Unit price
per
Sale
Sold out
Tasting Notes: Almond, Chocolate, Heavy Body, Light Acidity w/Sweet Finish

Country: Brazil

Producer:  Amarelo

Region: Cerrado Mineiro, Minas Gerais

Variety: Catuai

Altitude: 1060 MASL

Processing Method: Natural
Veloso is renowned as a pillar of the Cerrado region in Minas Gerais, Brazil, esteemed for their unwavering commitment to community-driven business practices.  This coffee from Veloso, Brazil is truly remarkable in its flavor profile, body, and balance. The coffee exhibits a heavy body, which gives it a rich and robust mouthfeel, making for a truly satisfying coffee experience.
The moderate apple acidity in this coffee adds a light touch of brightness, providing a pleasant and refreshing contrast to the other flavor notes. Additionally, the notes of cocoa and nutty undertones add depth and complexity to the coffee, providing a wonderful combination of flavors that are sure to please the palate.
One of the standout features of this coffee is its sweet finish. The sweetness provides a satisfying conclusion to each sip, making this coffee from easy and enjoyable to drink for nearly everyone.
In terms of balance, this coffee is carefully crafted to ensure that the flavors are harmonious and well-integrated. The heavy body is balanced by the moderate apple acidity, while the cocoa and nutty notes add a complementary layer of richness. The sweet finish ties all the flavors together, resulting in a beautifully balanced cup of coffee.
Overall, this coffee from Veloso, Brazil is a testament to the skill and dedication of its producers, showcasing a flavor profile that is bold and complex, with a heavy body, moderate apple acidity, and a sweet finish that leaves a lasting impression.
Share
View full details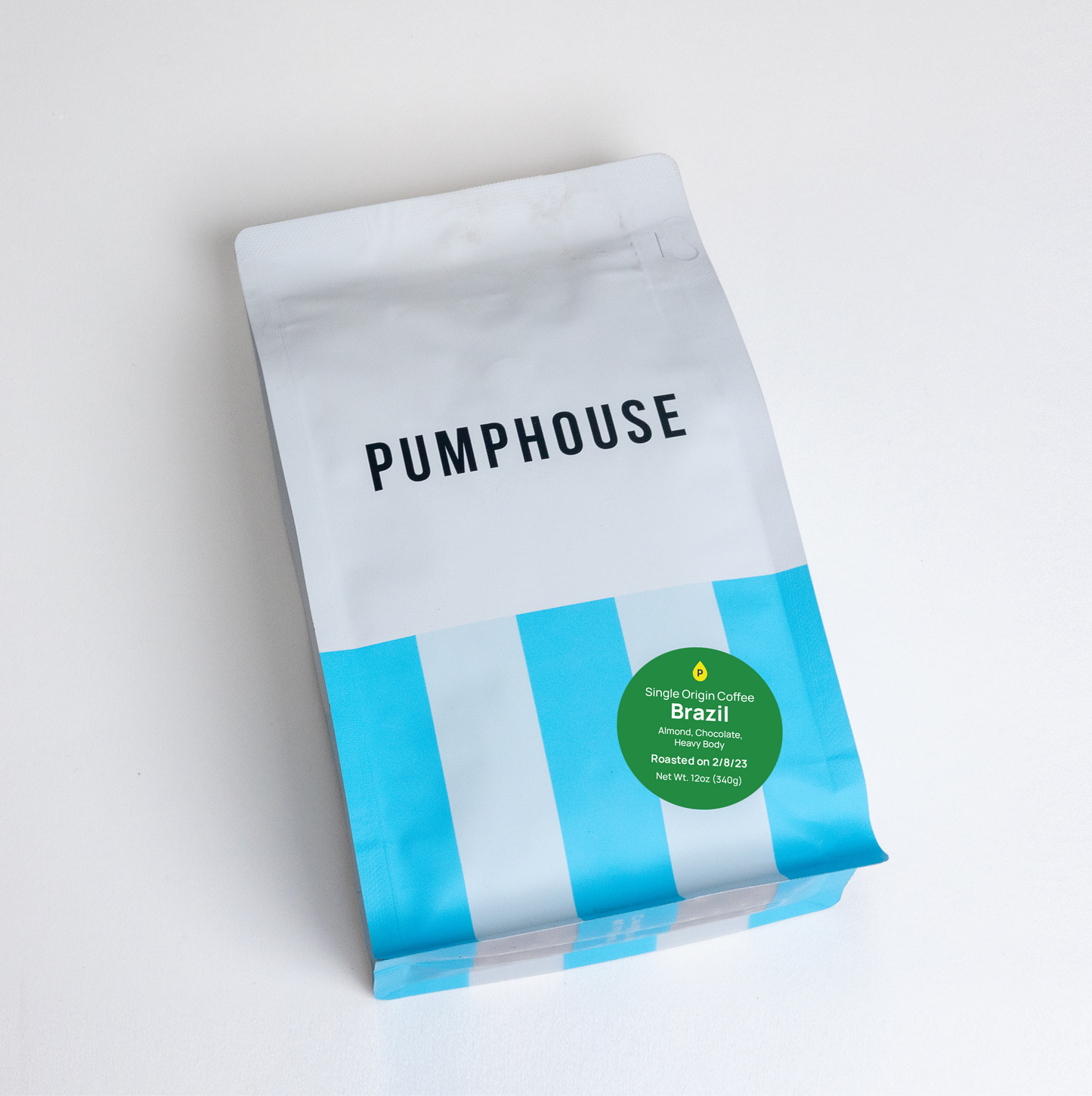 Great coffee
Really enjoyed the coffee from Brazil. Our go to is tasty town and we have been trying all your coffees. They are excellent.
Never misses!
This roast is consistently sparkling. Starts our days with an 'ahhhhh.'
Nicest Coffee I've Ever Tasted
I've been a Pumphouse Customer for nearly 5 years and can say that, hands down, this is the nicest coffee I've ever tasted. With exceptional customer service and fun branding, I've enjoyed watching a small local business grow to what it is today. I hope to see the growth continue while I'm enjoying their coffee for years to come.
Coffee is great but I purchased the wrong ground
The coffee is amazing! It's not the first time I purchased it. The problem is I purchased the espresso ground and it's too fine. The coffee does not drip. I will have to use the coffee in food recipes
Perfection in Every Cup
Roasted Fresh

Every bag will have a roasted on date, proof that you are receiving the freshest beans possible.
Ground or Whole Bean

Whether you prefer whole bean coffee or ground we offer a variety of options when it comes to grind size.
Estimated Cups of Coffee

12oz Bag - 18 to 20 cups
1lb Bag - 24-30 cups
5lb Bag - 122-140 cups