Regular price
Sale price
$ 39.99
Unit price
per
Sale
Sold out
Best Damn Cold Brew

Smooth & Bold

Free Shipping in the US
Ships Free!
Boldly Brewed:

 

Smooth, bold, and ready to rock your taste buds.

Double Trouble:

 More than t

wice the strength of regular coffee with 29mg of caffeine per ounce. Who needs sleep anyway?

Fridge-Friendly:

 

Fits in your fridge like a dream. Lasts 30 days, if you can resist.
Anytime Brew:

 

Morning kickstart or afternoon pick-me-up, we've got you covered. 1 Gallon of smooth cold brew.
Our Pump'd Cold Brew Coffee is brewed from specialty beans, sourced sustainably from Central America. Roasted specifically for cold brewing, these beans unlock a smooth, bold flavor profile that finishes clean, leaving your palate refreshed and craving for more.

But the magic doesn't stop at the taste. Pump'd is a powerhouse, offering twice the strength of regular coffee. Whether you're kick-starting your morning or need an afternoon pick-me-up, Pump'd delivers that extra pep in your step, every time.

Convenience is at the heart of Pump'd. Ready to drink, it fits perfectly in your fridge, and with a 30-day shelf life after opening, you can enjoy it at your own pace. And whether you prefer your coffee hot or cold, Pump'd has got you covered.

Pump'd is not just strong and convenient; it's also a healthier choice. It's 100% fair trade organic beans, and sugar-free, making it a guilt-free indulgence for those who appreciate the finer things in life.

Join us on this journey and experience the superior taste of our café-quality cold brew.
With Pump'd, you're not just drinking coffee; you're savoring a meticulously crafted beverage that's bold, flavorful, and has a kick to remember.

Add Pump'd to your cart today and elevate your cold brew experience.
View full details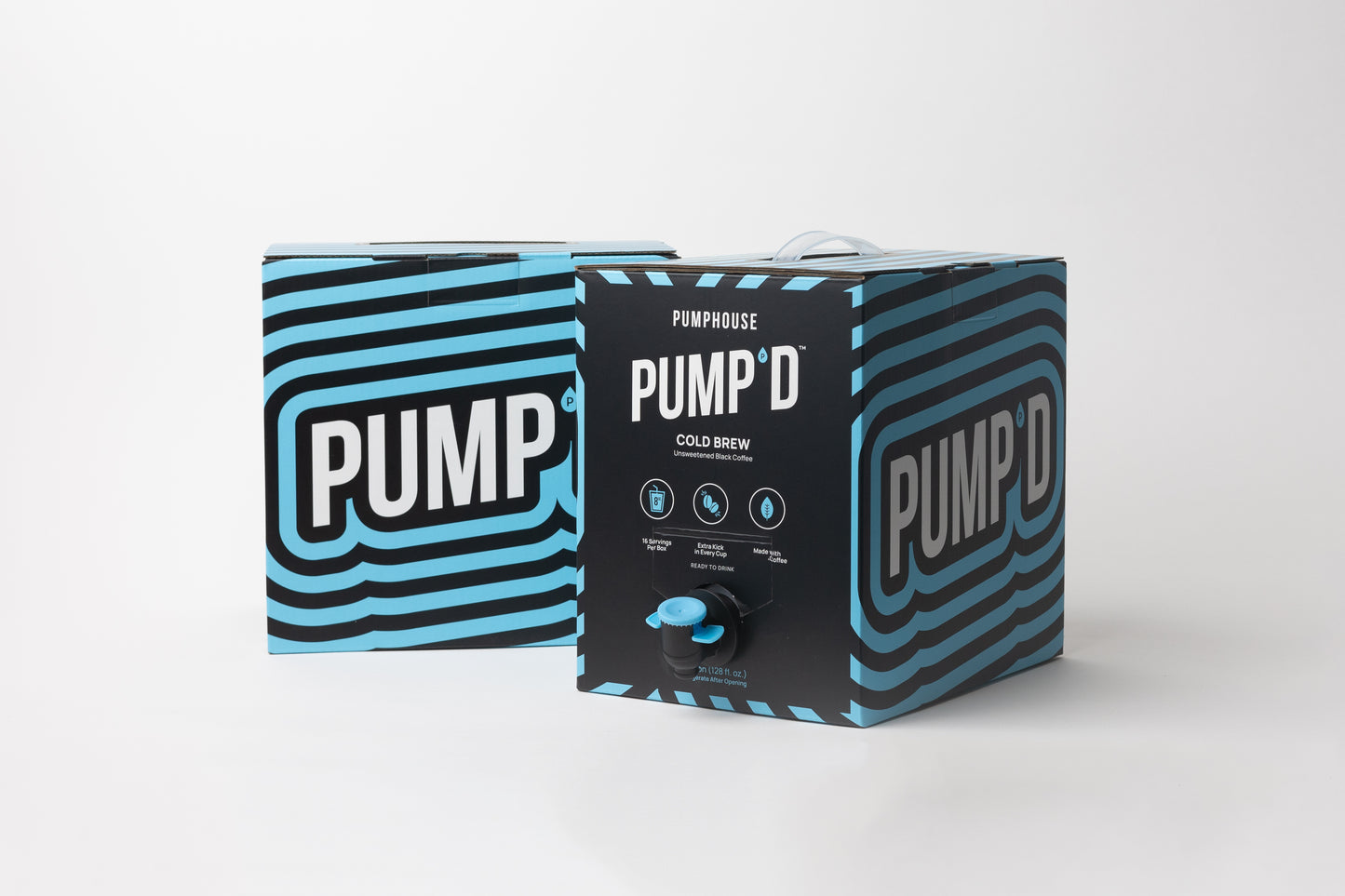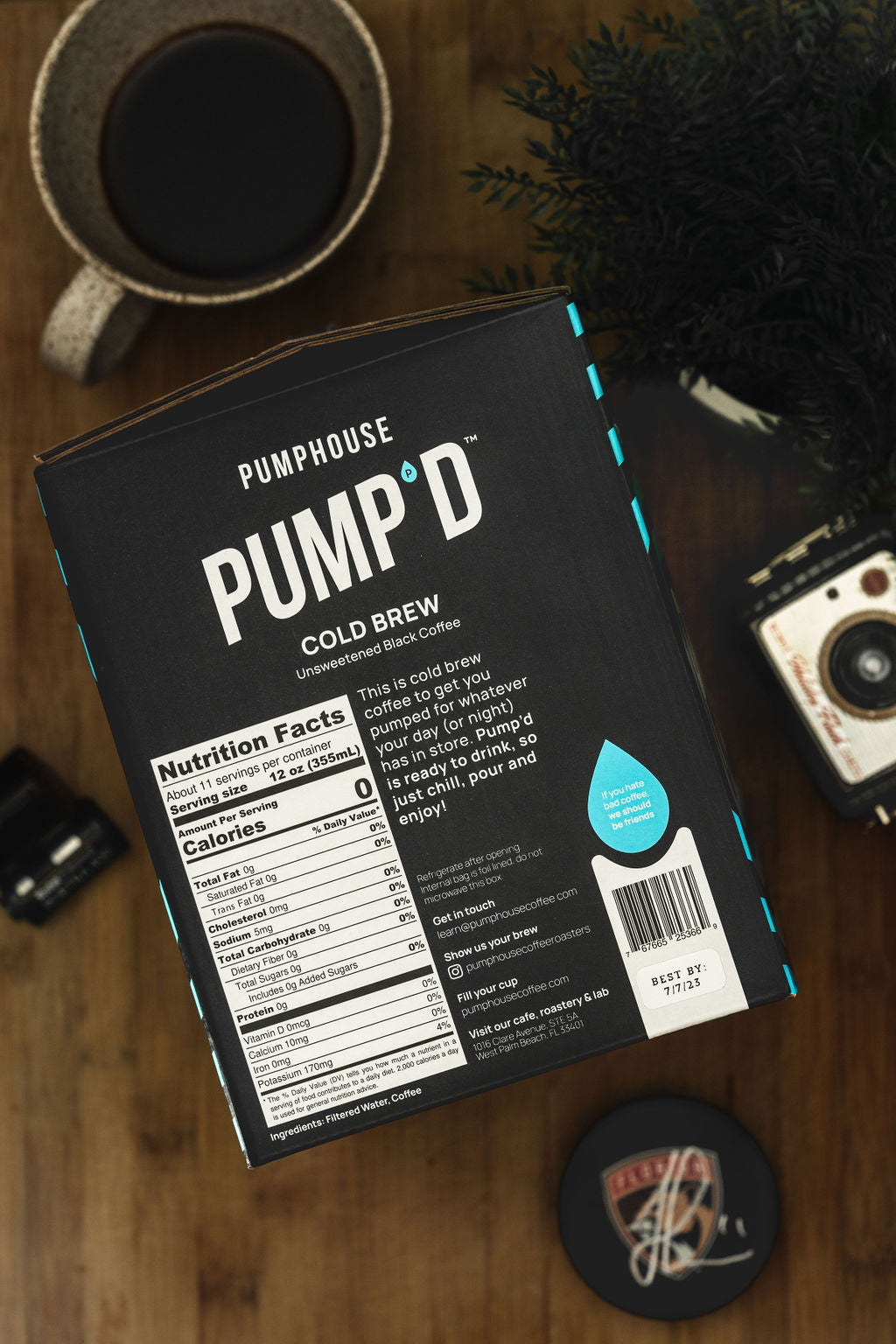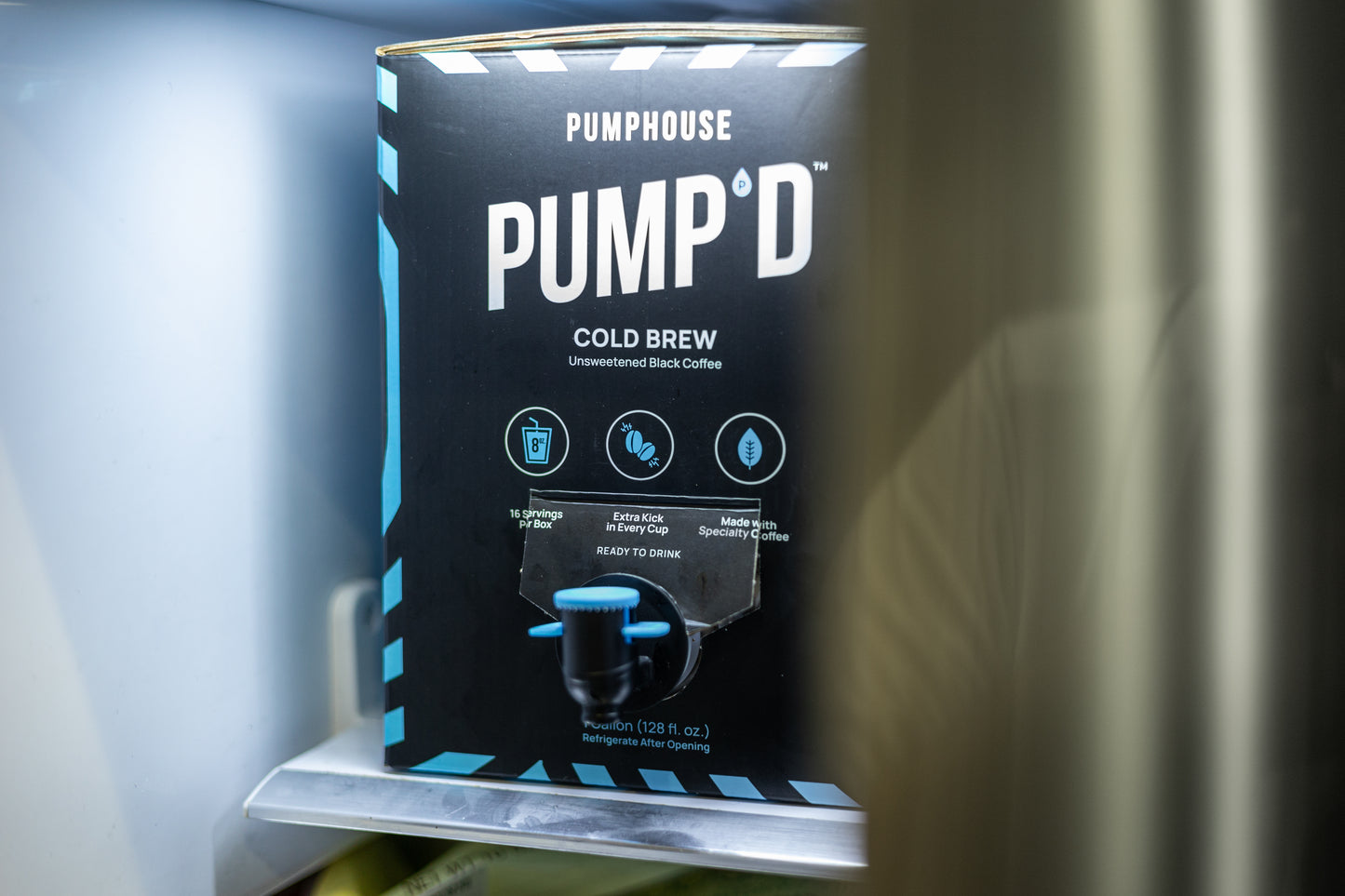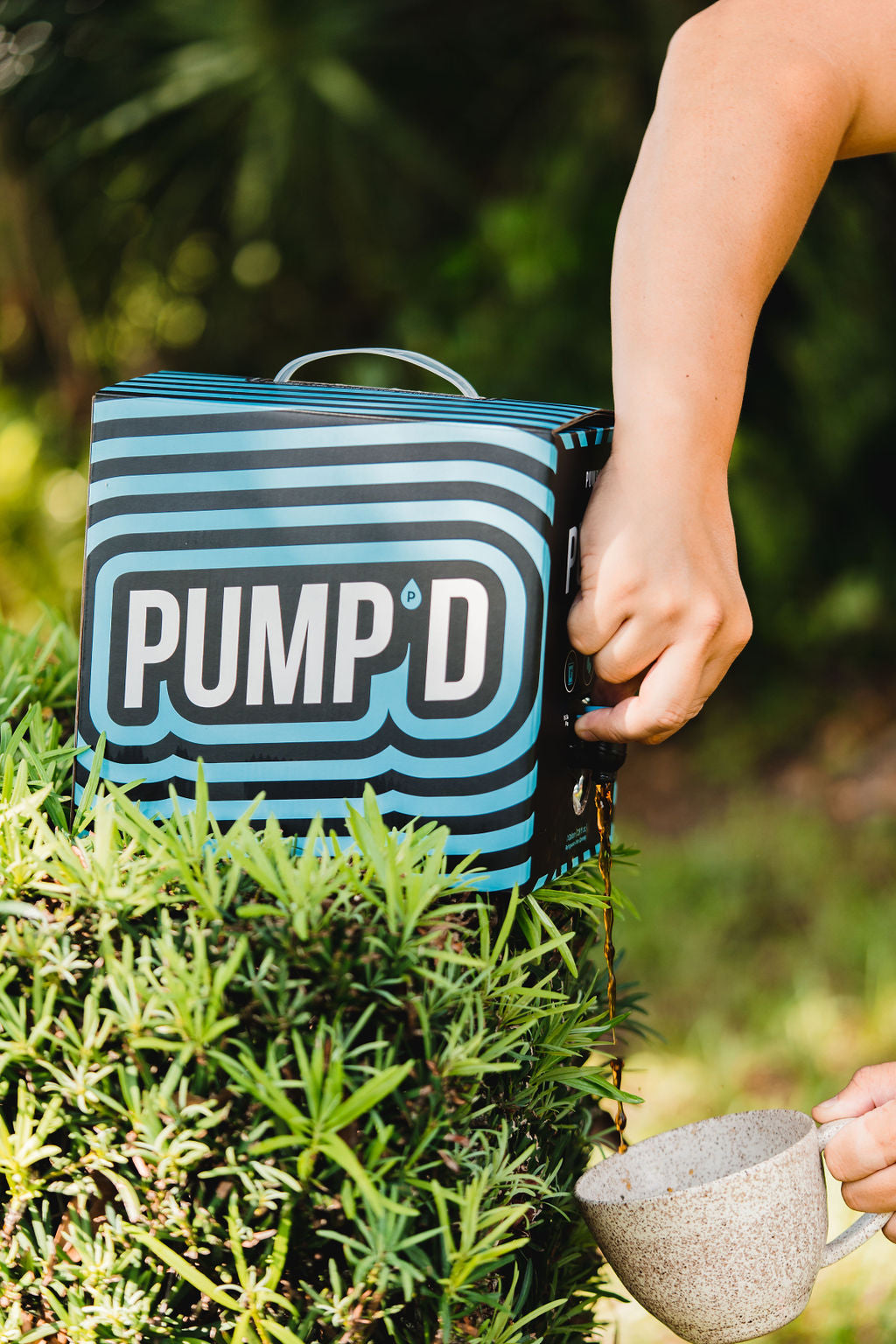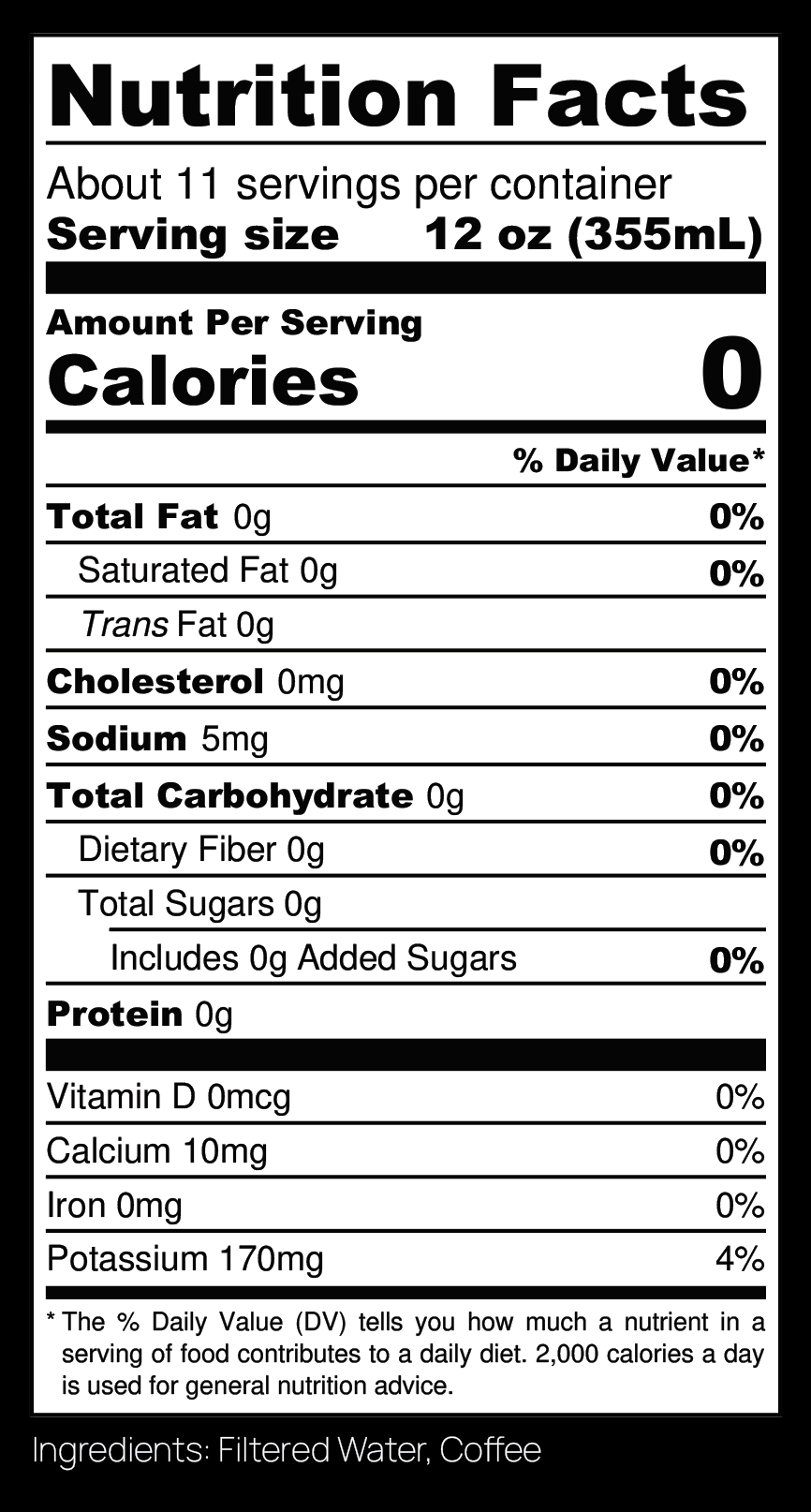 Pump'd - Cold Brew Coffee with Kick
Do yourself a favor & get PUMP'D
Grabbed a PUMP'D from the Pouratorium in WPB and it's been my favorite addition to the fridge in a very long time. Easy to get going and good for a month or so I believe. Insanely delicious cold brew on tap whenever I want??? YES PLEASE. Usually have a PH hot coffee in the AM and then when I pick me up in the afternoon this is my new best friend. Packaging is killer, doesn't take up too much space, great for guests, perfect to grab & go when I'm running out of the door. Beautifully done, guys!!
Exactly what my work day needed !
I haven't always been a big cold brew guy but this has changed my mind. Great flavor with a smooth taste. I always get a good boost of energy and focus when I have a glass. Enjoy!
I crave this!
The perfect afternoon pick me up! This cold brew is smooth and gives you the perfect amount of energy. It's convenient to have it at your fingertips and their delivery option make it so easy to receive since I don't live in the area. So , convenient that even my coworkers sneak some throughout the day…brb ordering more now.
THE ONLY THING IM DRINKING
After years of consumption, I feel liked I've tried every coffee out there and this is by far the BEST cold brew I've ever had. Super tasty, smooth, gives me great focus, and very economical!
Just Pour and Goooooooo.......
Extra Kick

Because you know you that feeling of how cold brew can kick, we didn't want to let you down. Our cold brew is strong, like 2 cups of coffee strong. So even if you add some ice to it, you are still going to be getting that extra pep in your step.
Fits in Your Fridge

We produce our cold brew weekly, many times daily. Proof that you are receiving the freshest beans in liquid form possible.
Drink it Black or Mix It Up

However you like your cold brew, Pump'd can get you there. Ice, milk, non-dairy, it's going to taste just as you like and still pack the kick you want.
Long Lasting

We have no doubt that this will be empty before you ever have to worrry about expiration, but in case you were interested, this will last 30 days in your fridge once it is opened, and 90 days if unopened.

There will be a "best by" date on the box so you won't have to worry.
Great Hot

Pump'd is equally good as hot coffee. Just throw it in a microwave safe cup first and enjoy a hot cup of coffee.

The box is not microwave safe because the 1 gallon bladder is foil.
Our Process
We start with carefully selected coffee beans that have met rigorous quality control standards. These seeds are then roasted specifically for cold brew and allowed to rest for just the right amount of time.

To achieve consistency in particle size, we rely on a massive Mahlkonig DK grinder that grinds the beans to uniform perfection. The brewing process takes place in jacketed brewery-grade tanks at a precise temperature, maximizing flavor extraction and resulting in a refreshing cold brew.

What further sets our cold brew apart is our aggressive processes post-brew that further refines the taste and quality. It's not uncommon for people to inquire if we've added sugar to our cold brew, as we strive to accentuate the natural sweetness of the coffee.At every step of the way, we spare no effort in creating a cold brew that's unparalleled in flavor and quality. Our commitment to the process shines through in every sip, and we're proud to share our passion for the perfect cold brew experience with you.
We Have Answers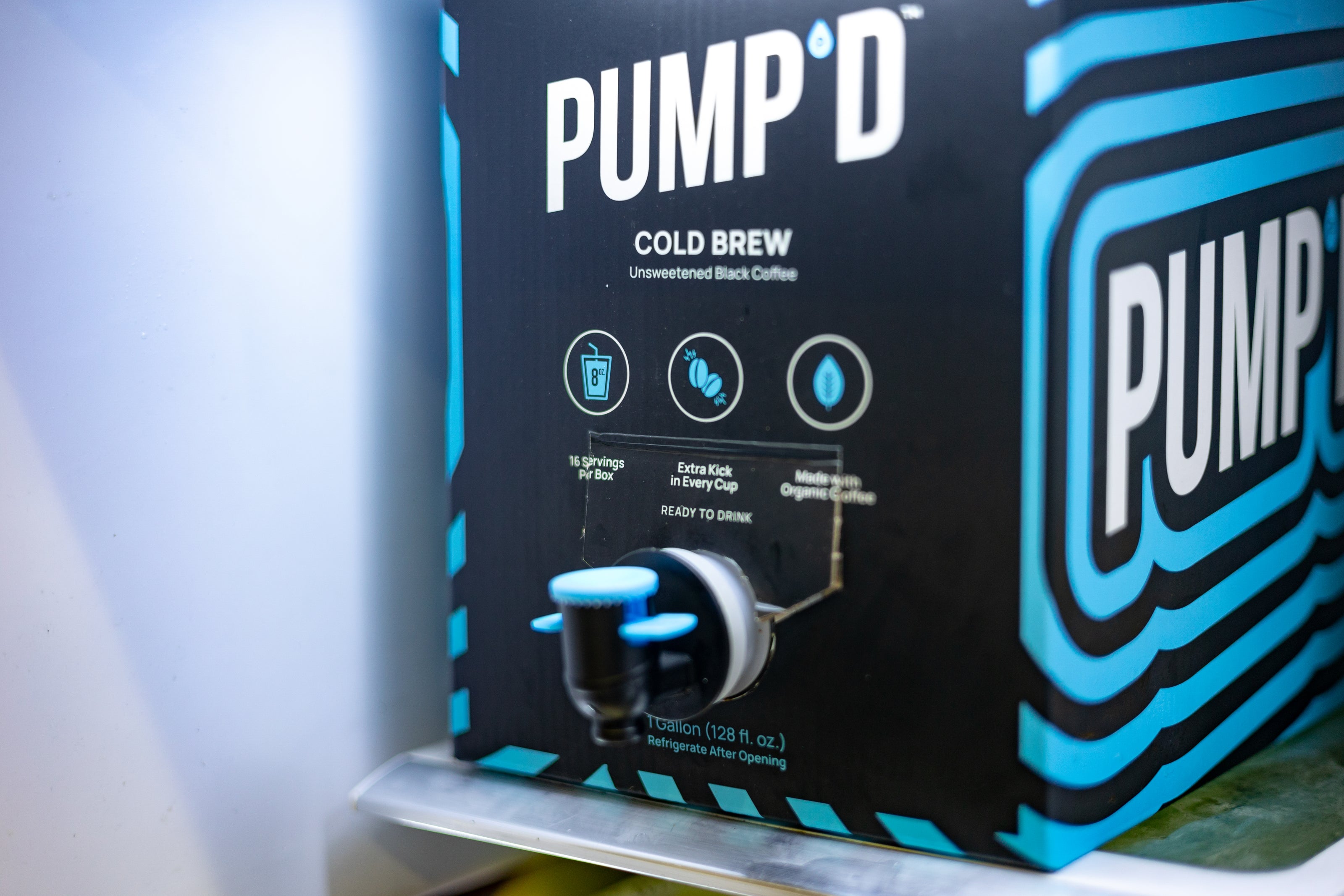 What kind of beans are we talking about?

We've been using the same coffee from the same special producer for years. As an 85-point coffee, this single origin boasts notes of chocolate + almond and is incredibly smooth. How smooth? We haven't tasted a better cold brew box out there, and we've tried them all. People often ask us if there's a little sugar in our cold brew. There's not. Simply roasted to perfection while maximizing sweetness. Another plus is that FT organic.
Does it need to be kept cold?

When your box arrives, simply put it in the fridge as it will maintain the flavor profile we've intended for you to recieve and enjoy.
How long will it last?

Ninety days and thirty once opened. Keep cold for maximum flavor.
Do I mix it with anything?

Pump'd is ready to drink and our preference is black, but you do it your way! We respect that everyone likes their coffee differently. The important part is that you enjoy!
Can I subscribe to this?

We are launching our subscription service very soon and you will be the first to know. In the mean time, get an extra and it won't go bad anytime soon.
How much is shipping?

It's only $5 anywhere in the U.S.